Ayumi Kamiya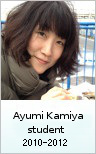 Ayumi Kamiya
Enrolled 2010-2012 Academic Year
Yokohama City University Hospital
Nurse, Endoscope Center
Please tell us about your current work.
I am a nurse at Yokohama City University Hospital and work at the Endoscope Center, which specializes in endoscopy. I'm not responsible for providing care in the inpatient or outpatient wards, and I don't work night shifts.
What led you to enroll at GSIS?
In 2007, I think, I was a distance learner at another university. A Professor at that university introduced Professor Suzuki to me at a drinking party. He said to me, "It costs a lot to study at your university, doesn't it? Getting a master's degree is far better than getting a bachelor's degree. Come to my graduate school instead!" (Laughs)
He suggested that I apply to GSIS, because applicants with some work experience and who went to a university for a certain period can pass the pre-screening for eligibility. This convinced me to give it a shot.
Why were you interested in Instructional Systems?
I learned the term "Instructional Design (ID)" when I was working on Basic Life Support (BLS) at my former workplace. The fact that I was learning ID and applying it to BLS improved my status and was quite a valuable skill there. In truth I only knew about ID but wasn't yet able to apply it then.
I see, so you were already interested in ID when you met Professor Suzuki. How did you like GSIS?
It was perfect for me since most of the courses were practical. I found that meeting with my classmates was very important, even for distance learners. Some of the courses involved receiving instruction at CIC Tokyo in Tamachi. When we met there. we naturally talked to each other, which gradually enriched our school experience.
Did you only communicate with each other face to face?
No. It's just that doing so was good for helping me decide to complete the program. I don't think all classes have to be face-to-face. That's impossible, because we are all working adults with different backgrounds.
I think that knowing each other's faces, not just our names on the electronic message boards was the minimum necessary level of contact for us to communicate properly as humans. First we met through the school, got to know where one another lived, etc., and ultimately exchanged e-mail addresses and set up times to have dinner together. I guess you can't really call it distance learning this way, though. Students in the Kanto Region met sometimes when we had trouble with our course tasks. We also formed a group on Facebook to plan drinking parties, complain about the courses, discuss the dress code for the master's thesis examination, and so on. Informal communication is also very important.
How was the distance group-work before you met your classmates?
I met many of the professors at a party on a roofed pleasure boat before entering Kumamoto University. (Editor's note: At the time, there used to be a yearly drinking party after E-learning World that was held on a boat.) Since I had the chance to meet and drink with them beforehand, I felt more comfortable when taking their courses.
How did you know about the party on the boat?
Professor Suzuki invited me the first time we met! Thanks to the party, I knew most of the interviewers in my entrance examination. I suppose things were different for the other students.
How did you work on your master's thesis?
I first met my supervisor, Associate Professor Goda, around June. We met at her office hours in Tokyo, in person. After that, we exchanged e-mails and arranged times to meet. We would get together about once a month and talk a lot. Other than that, I made progress while getting feedback from her using the message boards.
Which course was the most useful?
Every course was meaningful and has been useful to me in my work now.
The courses in the second term have been particularly practical and useful. For example, "Instructional Design Ⅱ" was basically a model case of my job. In my work now, I have two tasks: reading RFPs, requests for proposals, and writing WBSs (work breakdown structures). I couldn't make use of ID in these tasks without this course.
Another favorite course of mine was "Human Resource Management and Business Administration". I took this course as a part-time student before entering GSIS. At the time, it was the only course available for part-time students during the second term. I was scared when I first heard the course title, as it seemed to be beyond my understanding. However, a staff member at the university office gave me kind advice that I should get the two credits early if I could, so I got up my nerve and took the course. The course contents were very practical for working adults, and I think the knowledge gained will be useful once I become a leader at my workplace. I learned how to do a variety of things such as learn the character traits of each team member, put the right person in the right position, and achieve the desired results. Even now, I remember this course when I am wondering how I should think or act in regard to organization management.
What did you find hard or difficult?
Completing the educational tasks through group work was difficult, as there tended to be a lot of confusion and miscommunication. This was because we were all working adults, who were too busy to get together multiple times to work on the increasingly difficult tasks. Nevertheless, this unique educational environment is also what I liked best about this school. Here, students with different backgrounds work together to achieve something throughout the year. I feel like my world has expanded since meeting my classmates, each with a different job and a different area of expertise. I came to understand how small of a world the medical-care industry was, which I would never have noticed if I only had professional experience at hospitals. Discussing a theme with people from different backgrounds and different points of view in the ID courses was so exciting.
Do you have a message for someone who is considering entering this school?
If you study here, be sure to communicate with as many students as you can. Studying at GSIS is not easy, and you will surely face many difficulties, but you can overcome the two years of challenges with some help from your new friends. You also need to be determined to utilize what you learn in real life. You should think of how to apply each lesson to your job on your own, and not rely on the curriculum to tell you how to do it. Your work circumstances may change after entering the school, but you can continue learning if you are aware of the problem you want to solve. You will probably drop out if you enter GSIS just because it's novel, or just want to go to a graduate school after graduating a university. (Laughs) This all may sound a little threatening, but if you are aware of the problems you want to solve, you can utilize what you learn here in any field. Go for it!
(Interviewed in February 2012)