Kenichi Shimada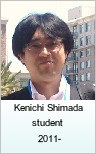 Kenichi Shimada
Enrolled 2011 Academic Year
Fujitsu Learning Media Co., Ltd.
E-learning Content Developer
Please tell us about your current work.
I work for Fujitsu Learning Media, a company which offers a set of training courses to enterprises. I am in charge of developing e-learning content there.
What led you to enroll at GSIS?
I used to make the user interface for e-learning content, but I felt that simply improving each menu was not enough to develop truly effective learning content. Instead, I wanted to improve the whole structure and content of the e-learning course. Coincidentally, my department shifted its focus to upper-level processes like content design, so my work also shifted to these processes. At first, since I did not know how to design content, I just consulted with my bosses and coworkers and followed their advice in handling my work. However, I soon began to feel that there was limit of what I could achieve that way, and I started wanting to get enough knowledge and theoretical background in content design to be able to make suggestions to and persuade our customers regarding design decisions. Just then, and again by happy coincidence, my company entered into a comprehensive collaboration with Kumamoto University, which included an opportunity for one or two of our employees to study at Kumamoto University each year. I was selected to be one of them, which led to me being here.
How do you like GSIS so far?
It's hot in Kumamoto (laughs)! As for the studies, it's a very new and stimulating experience for me. No one is here because they were forced to be. We are all personally interested in deeply studying instructional design. Learning with such motivated people is a great opportunity and a very different environment from that of my daily work.
What did you find difficult?
The most difficult thing was balancing my studies and my work. My assignments often took more time than I expected; the clock usually struck midnight before I could submit them most nights. It might have been easier if I had been better at managing my work schedule too. As it was though, I could not help but postpone my studies when busy concluding several business deals at the same time.
How did you end up getting back on track?
Well, I just somehow pulled it off (laughs)… Sometimes, I concentrated on my studies and other times on my work. Just after entering GSIS, I was determined to keep up with the designated schedule, so I became so nervous when the first few red icons started appearing by the tasks on the portal site (*1). However, as the number of red icons increased little by little, I stopped worrying about it each one so much (laughs). I do not know if this change in my mindset was good or a bad thing, but ultimately, I learned how to balance my work, personal life, and studies. I am thankful to the professors, who are pretty forgiving about assignments being submitted well after the deadline.
How did you like SCC (Story-Centered Curriculum)?
SCC was so good. As I myself am an e-learning content developer, I sympathized with much of the story, in which students must develop e-learning, and I really got into my role. I tried to play the role by finishing the given tasks one by one. This let me study several subjects at the same time within the context of the story, which is a strong point of SCC. Of course, I know that SCC is just a hypothetical experience, so sometimes I became overly objective and felt taken out of my role, but this part was also significant to me: it gave me a chance to see what we had learned as a part of one course and also as an element of the entire SCC context. This experience with SCC influenced my thesis theme a lot.
How did you communicate with the other students?
I communicated with my classmates on Facebook. One of them made a Facebook group at the end of our first year in GSIS, and there we would often talk about the professors' office hours (*2), plan drinking parties, and so on. We sometimes also meet face-to-face in Tamachi (*3) .
How did you communicate with the professors?
I may be a little different from the other students in this regard. My supervisor is Associate Professor Matsuba, but I was only able to meet with him in person and get advice yesterday (*4). I had previously communicated with him mostly through e-mail and on WebCT (*5). Meanwhile, I met with Professor Suzuki and Associate Professor Nemoto during their office hours and got advice from them many times. Those visits were always very productive. I started going to their office hours in my second year as a master's program student (M2) , but I should have taken advantage of the opportunity earlier. All of my classmates say the same thing. We were too modest during our first year (M1). The professors always announced that all were welcome to come during their office hours, but we were afraid that us M1 students might bother the M2 students. Also, we were at a loss for what to talk about with the professors. What a missed opportunity. Meeting the professors face-to-face during their office hours and at the training camps (*6) let us get to know them personally, which simply cannot be done only studying using WebCT. In addition, meeting in person is very effective for getting direct, on-the-spot answers to our questions. On the other hand, I can't say that frequently going to office hours was the only solution; I could have utilized WebCT or other asynchronous tools for more effective communication. In fact, I should have made more effort in this regard, because the learning materials themselves were designed with the idea of facilitating communication in mind. Perhaps now I understand the importance of in-person communication precisely because I struggled with the e-learning. I am still trying to figure out my own answer to these bigger questions.
How have you utilized what you have learned in your job?
Before entering GSIS, I knew the term "Instructional Design", but I could not give my customers a logical and persuasive explanation of how to use it. As I learned the basic of instructional design through "Instructional Design I", "Instructional Design II" and E-learning Fundamentals", I became more confident when explaining our products.
Do you have a message for someone who is considering entering this school?
You may be worried about balancing your work and studies after entering GSIS. I think that is a reasonable concern. Nevertheless, I have had an indispensable and priceless experience in GSIS. Here you can study instructional design in detail and have the opportunity to meet many people with the same goal and motivation. In addition, here you can get instruction directly from Professor Suzuki and the other professionals in this field.
(Interviewed in February 2013)
*1 Red icons: When you log into the GSIS portal site, you will see a list of the tasks for each course and their deadlines. If you do not submit one of the tasks before its deadline, a red icon stating "Past due" appears on the list next to that task.
*2 Office hours: The professors at GSIS meet with students during their office hours. During office hours, students can see them at any time at the designated places without an appointment.
*3 Tamachi: The liaison office of Kumamoto University is in Tamachi, Tokyo. Most of the office hour sessions of GSIS are held there, not at the Kumamoto University main campus.
*4 Yesterday: This interview was held on the day of Kenichi's thesis defense.
*5 WebCT: Now called "Blackboard", it is one of our key LMS (Learning Management Systems). All Kumamoto University students use it to access various learning materials, manage their class schedules, and access their academic records, all through a standard Internet browser.
*6 Training camps: There are optional training camps for GSIS students and professors, held twice a year in addition to the mandatory intensive courses. The camps involve two-day trips to the suburbs of Kumamoto Prefecture.