Tamaki Fukuta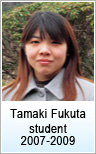 Tamaki Fukuta
Enrolled 2007-2009 Academic Year
Fujitsu Learning Media Co. Ltd.
E-learning Content Developer
What led you to enroll at GSIS?
Being responsible for developing e-learning materials, I had already begun studying instructional design on my own before entering this school. The more I learned, the more I wanted to study the subject in a systematic manner. That's why I decided to enroll.
How are your studies progressing? How are you balancing your studies and your work?
I am still struggling to find a good way to balance my studies with my work. In order to make a habit of studying, I have made it a rule to always study for one hour before going to bed. Currently, I review the tasks and assignments for my courses and manage my schedule using the same scheduling tool as I do for my work.
What kinds of materials or tasks do you have?
When some people hear the term "e-learning", they might imagine that we have a lot of "rich" materials like animation or videos, but almost all of our materials are normal texts. We can print them out and can read them while commuting or otherwise away from the computer. As for tasks, many involve writing reports. Also, there are some techniques built into the curriculum to keep us from becoming lazy. For example, students are required to show each other their reports and comment on them. This exchange of comments among students has taught me a great deal and helped me find issues in my writing. It's very stimulating.
How do you communicate with professors?
The professors at Kumamoto University are very considerate. They frequently visit the liaison office in Tokyo, which makes it easy for students there to communicate with them. We also have many "nommunication" opportunities, meaning occasions when we can communicate while drinking and dining. If we have questions, we can ask them over e-mail. We can also use the message boards which have been prepared specifically for our class.
How do you communicate with the other students?
As all of us are working adults, we don't have many chances to meet up in person. However, we do have many opportunities for online communication, such as commenting on each other's output. Since we have many students with different backgrounds, I can get feedback from perspectives which may be quite different from mine. It's so nice to learn or notice something important from someone else's observations.
What have you learned during your studies here?
As I am a learner myself, just taking courses developed by instructional designers has taught me a lot. Sometimes, I notice some issues with the courses. This is partly because not all of the professors are specialists in instructional design, and partly because the school has only recently opened. However, I can also learn from these defects. I hope that students will make suggestions for improving the courses that will help make the school even better.
How have you utilized what you have learned in your job?
As what I am learning at GSIS is directly applicable to my job, I am already putting the results of my studies into practice on a daily basis, and I expect this cycle to continue.
Do you have a message for someone who is considering entering this school?
Given the abundance of information available online today, you might believe that it's possible to get all the knowledge you need on this subject without attending a school. However, I believe that the experience of studying in the enjoyable and enthusiastic company of the friends you will make at GSIS will become one of your most valuable assets as an educational professional.