Uichi Tsutsumi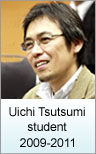 Uichi Tsutsumi
Enrolled 2009-2011 Academic Year
Hitachi Institute of Management Development
QC Manager
Please tell us about your current work.
I am in charge of quality control of the training content our institute offers.
What led you to enroll at GSIS?
I have known Professor Suzuki for about seven years. I met him for the first time when he taught at Iwate Prefectural University and I worked for JMA Management Center, Inc. We held a joint talk on how to best train a CLO, Chief Learning Officer, for a human resource development journal. Professor Suzuki joined in the discussion as an instructional designer, and I as an industry expert in educational effect measurement. The president of a housing developer, the president of another educational vendor, and Assistant Professor Nemoto were also there. JMA Management Center has a long history as an educational vendor. While there, I was in charge of developing distance learning courses and the business of measuring educational effects.
I studied instructional design while developing distance learning courses. The approach I learned was CRI, Criterion-Referenced Instruction, developed by Robert Mager. Then, in 2000, I started to work on educational effect measurement.
Effect measurement is like performing a clinical examination. At clinics, doctors measure your uric acid or cholesterol to check how healthy you are. They diagnose you, clearly identify what is causing you trouble, and then provide medical treatment. Wouldn't you be horrified if a doctor gave you treatment based only on their intuition or past experience? I don't think anyone would want to see such a doctor, do you?
Training is just the same. Accurate evaluations of trainees are not enough; you need to also take a scientific approach to improving the training itself. I thought "evaluation" and "design and development" could work together to guarantee the effects of human resource development. The more complicated the world becomes, the more complex the themes and tasks which education has to tackle. I wanted to enroll in GSIS because I felt I needed to relearn the basics of instructional design. Professor Suzuki told me I already knew enough, but I disagreed (laughs).
You had probably known about GSIS since it started. Why enroll at that timing?
Well, Mr. Hayakawa, who entered GSIS before me, is one of my good friends. He studied here both as a part-time and a full-time student, so I often asked him how he liked the school. He told me that he was gaining an in-depth knowledge of the basics of instructional design, and this intrigued me. In addition, this is the only school in Japan where you can systematically study instructional design.
How do you like the courses?
The SCC at GSIS, which I took early on in my studies here, was disappointing. They said it would be authentic, but it wasn't at all. Truth be told, I couldn't believe it had been designed by the top-notch instructional designers in Japan. The scenario was too far removed from a practical business; it felt like a purely academic exercise. Maybe my years of experience working at educational vendors has tainted my perspective, though. Having been in the real world of human resource development, learning some theories by myself and applying them to business along the way, the unrealistic scenario just didn't satisfy me.
You don't have to take the SCC courses though, do you?
That's right. I took an SCC course because I liked the presentation given by GSIS at E-learning World. It was about instructional design education using SCC. I elected to take an SCC course because I wanted to experience this new method. SCC itself is a very good method, and I personally expect great things to come from it. Regardless of how good the methodology may be, you can't take advantage of it if the curriculum doesn't have appropriate content. The course simply didn't live up to my expectations; perhaps my expectations were just too big to ever be lived up to. Professor Suzuki told me to just stick it out though – SCC was a selling point of the school, after all.
Of course, I took many other highly interesting and informative courses. For example, Instructional Design II (ID II), Human Resource Management and Business Administration, and E-learning Consulting were all practical, stimulating, and worthwhile to me.
ID II is a course where you can learn how to apply ID theories to practical settings. This might have been what I had expected to get out of SCC.
In Human Resource Management and Business Administration, you study human resource management from the viewpoint of business administration. Through this course, I found what academic study truly was, and my way of thinking about studying changed. You have to read a lot of literature and then summarize your thoughts about them into essays. I learned what constructive criticism was, and how I should read books. I learned a whole new point of view: how to think critically.
In E-learning Consulting, you roleplay as a consultant to a real corporation, determine what their problems are, and make proposals to solve them. Professor Ekawa, who is in charge of this course, always made surprisingly shrewd critiques. It was like an intellectual game and every task was an exciting new move to make. Although it was a mercilessly tough course and he made me revise my proposals again and again, I was happy to do it.
In this way, the second semester of the first year, and the first semester of the second year were tough but interesting.
You said you entered the school to learn the basics of ID. How were the ID courses?
Introduction to e-learning was basically reviewing the fundamentals of e-learning. Writing proposals in ID II was, as I said, practical and interesting.
Oh, I remembered another reason why I didn't like the first semester of the first year. I was so bad at the IT courses. They were really hard and stressful for me. Finally, at some point, I started to understand some of the programming languages and I got a little motivated.
How did you usually study? Were the tasks difficult?
I had no choice but to sleep less, basically (laughs). Even though I pushed myself to my limit, soon my portal site turned completely red, which meant many of my tasks were past due. Professor Suzuki told me to come and see him during the summer training camp. He told me he would give a me one-month grace period if I was willing to try again. So, I gave up my Obon holiday and concentrated on finishing the tasks. Human beings are strange, you know, once we have achieved something once, we don't want to let it go to waste. That was why I never fell behind again after the start of the second semester.
When I attended the face-to-face intensive courses, I exchanged a lot of information with my classmates. I learned how much effort I should put into the task papers and, conversely, which corners I could cut. Of course, too much corner-cutting would mean having to resubmit the paper, so I learned how to toe that line.
How did your research go?
I originally wanted to research standardization of processes for development of leadership training content. In ID, first you must set achievable goals, and then design what and how to study to achieve them. However, in many training courses offered at corporations, setting achievable goals is difficult. Many of the courses are about improvement goals, like improving problem solving or leadership skills; there are no clear goals to achieve. So, before entering the school, I was thinking I would research how to apply ID to improvement-oriented courses.
However, the business direction of my company changed, and I could no longer develop training courses. So, I quickly changed my research theme to the standardization of the development of Kirkpatrick's level 1 evaluation questionnaires. This was related to my profession, so I thought I could manage it. I was told that I should do effect measurements like level 3 or 4 evaluations, but I wanted to analyze level 1 evaluations, which are so prevalent but also commonly the most poorly executed. However, even Professor Suzuki told me I couldn't do such an ambitious research project in just half a year.
But then I suggested to my company president that we develop a standard reaction questionnaire with an academic approach. Though I couldn't have done it alone, I was able to start a project to develop this questionnaire with my company's help.
Did you have any trouble in your research?
Not in particular, since the research theme was what I had been doing all along. But writing research papers was a different and new challenge for me. In writing research papers, you have to explain the process and methods in detail, while in business you have to explain more about the results and function than the process. I was a little bit confused at first. I got accustomed to it later, though.
What have you learned during your studies here?
I have gained a systematic understanding of Instructional Systems. As I had already been learning ID and educational effect measurement, I don't think I learned a lot of new things, but I was able to organize all of the concepts and theories that were scattered in my mind. That was good for me. I think you can't figure out the essence of a phenomenon if you've only observed it based on your experience. However, if you learn the basics systematically, you can understand things like how two different phenomena can have the same root cause.
Also, as I said, I learned to read books critically. While before I just believed everything that authors wrote unquestioningly before, now I would question things and dig deeper by myself.
Looking ahead, how will you utilize what you have learned in your job?
Now I supervise an NPO involved in human resource development. So, first I want to share what I've learned at this school through my NPO's activities. Many of the current staff in charge of human resource development were abruptly cherry-picked from totally different departments, and now have to do their work relying on their intuition and experience. I want to teach them what I learned here, so that they too can promote effective human resource development based on theories and data.
Second, I want to study ISO 29990 and establish a business standard for my corporation's human resource development. If we don't do work like this, theory-based business practices won't gain firm roots in the organizations themselves. I want to study ISO 29990, improve my consulting skills, and make an impact on our management from the standpoint of human resource development.
Finally, I want to arrange for a collaboration between my NPO and the graduates of GSIS, because so many of my NPO's staff are very much aware of the problems facing human resource development. For example, I'd like GSIS graduates to introduce their research results to them.
Do you have a message for someone who is considering entering this school?
This school is mainly for working adults, so you need to have clear sense of purpose. You know, education has two aspects: consumption and investment. You should think of studying at GSIS as an investment and try hard to further your career by enrolling here. Without this sense of purpose, I'm afraid you'll just end up dropping out.
Other than that, once enrolled be sure to exchange as much information as possible with your classmates and professors in person. Human interaction is necessary for successful e-learning. Make the most of opportunities to interact and have fun too, like at the training camps or social gatherings (laughs).

(Interviewed in February 2011)