Kazuhiko Aso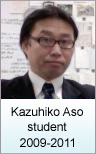 Kazuhiko Aso
Enrolled 2009-2011 Academic Year
The University of Tokyo
Graduate School of Mathematical Sciences
Assistant Professor
What led you to enroll at GSIS?
I knew about this school since when it started. At that time, I was searching for effective ways to implement video archives of my math lectures, which I had started to make about ten years ago, into e-learning courses. I even downloaded the application form for the first entrance exam, though I didn't end up applying then. I did read some books on the subject of e-learning, but I felt overwhelmed. There were too many difficult technical terms for me to understand the subject by myself. Meanwhile, I did learn about several e-learning courses which failed because the designers didn't know enough about educational technology, and this helped me make up my mind to enter the school in order to systematically study the subject. In August 2008, I participated in an informational meeting about GSIS, where I got a feel for the atmosphere of studying here as well as some advice about the entrance exam from current students. This also motivated me to enroll.
How do you like the courses?
At first, I was in total culture shock. The research methods in educational technology are so much different than in the sciences, which I majored in in college. Everything being so new made me all the more interested in learning. For example, when I read the textbook of "Introduction to E-learning", I got many new ideas from it that I immediately read a related book to learn more, and then went on to still another book. I got so wrapped up in this pursuit of knowledge for my own sake that I sometimes couldn't meet the deadlines of the course tasks. I'm really sorry about that!
One unfortunate thing is that I can't get enough discussion through the courses here. This is partly because I am often too far behind my classmates to discuss with them, but even when I am keeping up with them, they are so busy that the online discussions often end too quickly, after only two or three exchanges of ideas. I want to have much more in-depth discussions about the topics covered in our courses. However, this situation has improved to some extent because I now try to create opportunities to meet my with my Tokyo-based classmates in person, and we also started having online group meetings in the second semester.
I was surprised at how few comments the professors post online. Of course, they provide us with lists of books to read, but I wanted their stimulating input during our discussions as well. We can always read books on our own to get new knowledge and, as master's program students, that is what we should be doing as a matter of course. But true learning comes out of discussion using the knowledge gained, and I want to do that more. Just reading is not enough, so this situation is a little frustrating.
How do you communicate with the other students or professors?
The students often have drinking parties after the intensive courses. As we are all adults working in a variety of fields, we stimulate each other a lot when we can interact in person. Participating in training camps with such a wide variety of people is also very interesting. During one of the camps, I gathered my classmates to have a more academic discussion, and we ended up talking until morning (laughs)! I sometimes get contacted directly by my professors, who are always worried about me falling behind. I also attend office hours, where the professors give me a lot of intellectual advice.
What have you learned during your studies here?
I learned the basics of educational technology and what books I should read. This was the biggest benefit, because up until now I had only been reading them at random. Another benefit was getting many comments from people with various points of view when I made a presentation on my research at a training camp. For instance, people who work in management have completely different views that I would never have thought of. Through them, I got the information that I needed to figure out how I could provide my e-learning courses to as many people as possible, which had a question on my mind for quite a long time.
Looking ahead, how will you utilize what you have learned in your job?
To be perfectly honest, I don't know just yet. I work at a university, but I am not in charge of faculty development. Now I am a member of a "Video Archives" project, where we make digital lecture and seminar content about math and distribute them to the public. I am wondering how I can insert the elements of e-learning into that. I want to start up a new project on education soon utilizing what I've learned.
Do you have a message for someone who is considering entering this school?
Since this is a program geared toward working adults, don't be passive. If you study proactively, it will surely pay off. In this school, if you put forth the effort, you can get many opportunities to talk with top-notch researchers during office hours and so on. Don't hesitate to contact them. I know I shouldn't be saying this with any sort of pride, but even someone like me, who is always behind in his schoolwork, gets the chance to talk to the experts working here. This shows how tolerant this school is (laughs)!

(Interviewed in February 2010)