Kei Amano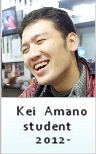 Kei Amano
Enrolled 2012 Academic Year
Digital Center, NHK Publishing, Inc.
I belong to the digital center of a publishing company. I construct and manage the promotional sites for our books or magazines and develop digital content.
What led you to enroll at GSIS?
The start for me was participating in the Beat Seminar in September 2011 and listening to a lecture by Professor Suzuki. Through the lecture, I first learned about some interesting instructional design theories, such as SCC (*1) and GBS (*2), and I got really excited about them. I wanted to make learning materials based on instructional design theories myself.
Right after that, I went to the annual conference of JSET at Tokyo Metropolitan University and happened to encounter Professor Suzuki again. He said to me, "Oh, good to see you again! Study hard, and come on down to Kumamoto University if you are interested in instructional design."
At the time, I was wondering what I should do as a staff member at the digital center; I had just been transferred in from the sales department that summer, and I did not know much about IT. This experience made me decide to learn educational technology and make web content based on the theory of instructional design.
How do you like GSIS so far?
At first, I found the program to be much tougher than I had expected. So much so that I regretted entering GSIS so unprepared. I had decided to enroll just because I wanted to learn about instructional design – I had no idea how much I'd struggle (laughs)! I really didn't have any previous knowledge or experience in education or training program design. When joining any of the discussion on the message boards for some of my courses, I was often at a loss and became so nervous about expressing myself, because all of the other students had so much more knowledge and experience than me.
What changed your mindset?
There wasn't really a specific turning point. I kept at it for the whole year, discussing with the other students and the professors while working on the course assignments, or while at drinking parties or on the Facebook group. I read the message boards on WebCT (*3) thoroughly and, through trial and error, starting posting more and more comments. Through this process, I suppose my mindset gradually changed. I got more accustomed to the courses, and started getting a lot out of the differences between my and my classmates' opinions. Each of us approached the course assignments from a different viewpoint, because we all had different backgrounds: one classmate was as a university officer, another a medical professional, still another a trainer at an education vendor and so on. I came to want to express myself through my reports and comments in order to get their feedback.
What have you learned during your studies here?
I found that you cannot expect to get valuable feedback until you've expressed your idea in the form of a prototype or something tangible like that. Most of the GSIS course assignments include submitting analysis reports, checklists, or plans for educational content. These assignments are really well-designed to get students to express their ideas as some sort of output. I got very valuable feedback from the professors and my colleagues through the first year of courses. I want to utilize the learning process I used here in my job going forward.
What did you find difficult?
I had a hard time studying when I was busy with my work. Once you fall out of the habit of studying, it is so hard to get back into it. If you cannot submit a course assignment on time, a red warning icon appears on the study schedule screen of Kumamoto University portal site. Then, if you keep procrastinating, the screen soon fills up with red icons, which puts on even more pressure. I felt as if I had been rejected by the e-Learning, and it became harder and harder to get back on track. That vicious circle was really difficult to get out of.
How did you end up getting back on track?
In the first semester, I was so busy with my work that I fell way behind in submitting my course assignments. Even though the deadlines had long since passed, I knew that I had to get caught up before the summer break, or just give up altogether. Somehow, I managed to submit each of the assignments one by one. Based on that experience, I made up my mind to make e-Learning my first priority from the second semester. After all, I only had two years to study here, so I decided I'd better give it my all. As a working graduate student, I had no choice but to cut down on sleep to make enough time to study. So, I made up my mind to study hard and forgo all but the minimum amount of sleep or rest.
How did you like SCC (Story-Centered Curriculum)?
It was pretty rough… When I first entered GSIS, I imagined SCC would be something like an enjoyable role-playing game, because I had heard that the content was story-based. However, I found I just couldn't get absorbed into it. I understood how valuable it was for studying the curriculum, but it was hard for me to actually do. Of course, I also found several positive aspects of this approach, though It's hard for me to express them well. I think that thanks to there being a story, I could look at myself as a learner more objectively. In the first semester, the students are "hired" by a fictitious e-Learning company and "work" there to gain the necessary contents development skills. Therefore, through SCC, I was not just doing tasks for a course, I was learning why the skills learned during the course were necessary for me. At the end of the course, the participants reflected on their achievements based on the competency list used by GSIS. This gave me the chance to think objectively about what I had learned during the course. So, although SCC was not what I had expected, it gave me quite a valuable, unique experience; the course content and I were both being developed, and I got to play two roles simultaneously, as a learner and a designer (*2).
How did you communicate with the other students and professors?
I communicated with the other students on Facebook, and with the professors mostly by e-mail. However, when asking questions via e-mail, you really need to have a clear grasp of what your problem is, or you can't expect a good result. For this reason, I tried to actually meet my professors as frequently as possible, by attending seminars and drinking parties. If I can talk to them about what I am thinking or what I am troubled with in person, then they can give me some feedback, even when my grasp of the issue is not so clear. That's why immediately after entering GSIS, because of my lack of knowledge, I didn't know what it was that I did not know, so I made the effort to put myself out there and meet in person. In that sense, helping inexperienced learners communicate questions that they do not clearly understand may be a challenge when providing learning support in e-Learning. As GSIS is a 100% online graduate school, we cannot just declare that the best method for communication is attending drinking parties together (laughs)!
Do you have a message for someone who is considering entering this school?
You can get a lot of stimulating information studying at GSIS. The professors are great resources for academic viewpoints and theories at the forefront of their fields, and you can enjoy talking with the other students and graduates from different industries. On entering GSIS, I found there are a variety of topics and possibilities fields of study within instructional design. One of the good points of GSIS is that the people will engage in lively discussions regardless of differences in opinions. Everyone really devotes themselves to their studies and research. I got so much stimulation from my colleagues both online and off. Of course, you do not have to enroll at a university to study this subject; you could just read books about it, join some study groups, or access leaning content online. However, I feel there are so few places like GSIS, where people can study together regardless of their points of view. Every day I keenly feel how enjoyable and precious this learning experience is. Since I have not yet graduated GSIS, I do not feel qualified to provide an authoritative message, but just let me say that GSIS is really fascinating.
(Interviewed in February 2013)
*1 SCC: Story-Centered Curriculum. In SCC, students work on their assignments in the context of given stories. At GSIS, students can elect to take SCC courses in their first year of their master's program.
*2 GBS: Goal-Based Scenarios. An instructional design theory for designing story-based educational materials. The basis for SCC.
*3 WebCT: Now called "Blackboard", is one of our key LMS (Learning Management Systems). All Kumamoto University students use it to access various learning materials, manage their class schedules, and access their academic records, all through a standard Internet browser.
*4: In the course "Integrated Curriculum Practicum I", the students experience SCC as a learner. In "Integrated Curriculum Practicum II", they design new SCC learning content and make a proposal on how to improve SCC at GSIS.