Masaki Nakamichi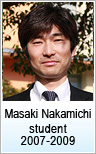 Masaki Nakamichi
Enrolled 2007-2009 Academic Year
Nihon Fukushi University
Education Development Department Executive
Manager in Charge of the Education Design Research Center
What led you to enroll at GSIS?
The university I work for has a correspondence course. Several years ago, it was already sharing lectures via Video on Demand (VOD) as content for that course. Then, we decided to provide VOD (*1) for on-campus courses as well, in order to promote an educational approach that mixed both in-person and VOD lectures throughout the university. In April 2006, I was transferred from the Communication Education Office to the Information Network Department. I became head of a project for developing learning support systems and establishing the Education Design Research Center, which would focus on promoting E-learning starting in April 2007. In the summer of 2006, in order to gather information for use in these projects, I attended "E-learning World http: //www.elw.jp/", where I listened to Professor Suzuki's lecture. I had already come across the term "ID" in several books, but I thought that ID was equivalent to the ADDIE model (*2). Of course, now I know that they mean different things, and in retrospect, it's pretty embarrassing that I thought that (laughs). Anyway, Professor Suzuki introduced us to e-learning programs based on various ID theories, which led to me realize that e-learning is not limited to VOD alone. Right then and there, I became a big fan of Professor Suzuki, and decided that he was the ideal person to learn about ID from, and knew that I wanted to apply to enroll in GSIS at Kumamoto University. It just so happened that application forms for the school were being distributed in the room after the lecture was over, so I took one.
How do you usually study? Is it difficult to balance your job with your studies?
When I first started, it was all I could do just to finish the assigned tasks. However, after a few months, I learned to draw up a schedule for my studies. First, I wrote down the deadlines for my assignments in my diary and checked it every day. Early every morning, I went to my office and printed out all of the materials from Blackboard (*3); everything from the distributed documents to the written explanations for each task. Then, I would put the printouts in my bag. This meant that I could read them whenever I found time, even during work time; for example, while moving from one place to another, or during a break. I really mean anytime, anywhere. Then, every day after work, I stayed in my office for two or three hours to write task reports. Once I finished a report, I would submit it on Blackboard. Before I realized, this pattern had become a kind of habit for me. However, I never studied at home (laughs). My other routine was to relax on Saturdays and Sundays. Just for your reference, I took six courses in the first semester of my first year; well, eight if you include the two intensive courses which also required tuition. In the second semester of my first year, I really got into gear and took eight courses, which was incredibly daunting (laughs). I slowed down a bit in the first semester of the second year, taking just four courses, followed by only one course in the second semester. By the time I got to the stage of writing my thesis during my second year, I was feeling a little more relaxed.
You said that you studied at your office. Does that mean your company was supportive of your desire to attend graduate school?
I persuaded my superiors to let me enroll in graduate school by arguing that it would help our university promote e-learning. Up until that point, we had made some progress with our own version of an e-learning system, but I knew it could be more effective if we introduced the specialized skills and techniques of instructional design. I convinced them that what I would learn in graduate school would surely be beneficial to the organization. Furthermore, my university allows its staff to undertake advanced study as part of its human resource development and personnel training policy. Although I naturally still had to attend to my work duties, they let me study while at the workplace.
What kinds of materials and tasks did you have?
We had very little in the way of video materials. We were provided with books, reference, and supplemental documents. Our tasks required that we read the supplied materials and submit reports summarizing our opinions of them. In addition, most courses required us to upload those reports, and read the reports uploaded by other students and comment on them or ask questions. Receiving input from other students with a variety of different perspectives helped me notice things that otherwise I might have missed. Beyond that, a number of the IT courses required that we take and pass online examinations.
How did you communicate with the professors and the other students?
Because I wasn't living in Tokyo, I didn't have many opportunities to arrange meet-ups with other students. Instead, I tried to participate in meetings at which professors and students from Kumamoto University came together, such as all-Japan academic conferences or seminars. Also, I prioritized attending the so-called "Kuma-Dai Nights." I felt that we could communicate more easy and efficiently on the message board or over e-mail after developing mutual understanding through those occasions when we met in-person. On Kuma-Dai Nights, in addition to our daily studies and research activities, we sometimes discussed certain challenges at our respective workplaces, using ID as the framework for understanding them. This helped us to develop a stronger network with one another which, in turn, helped us to do our daily tasks together more efficiently.
Let me give you an example. In e-learning, it is difficult for professors and students to communicate with one another. So, I introduced the other students to a social media site that we use at my university. It was actually adopted at some of the other student's workplaces. My university also benefitted from some things I learned from others: when we decided to introduce a student portfolio system, we were able to get advice from a student who was working at another university that already had such a system. Furthermore, there were occasions when we were able to take advantage of my connection with GSIS by fortuitously encountering former colleagues at seminars unrelated to Kumamoto University. For these reasons, I really was glad to have met the other students through Kuma-Dai Nights.
When you couldn't meet up with others, how did you communicate with them?
Generally, we communicated using message boards and e-mail, but I also frequently used the telephone, as I am an analog person (laughs). For example, when we were doing group tasks, most group members used Skype, but some of us just used our phones. And, when I was receiving guidance on preparing my master's thesis, I would call my advisor directly, to go over key points such as the content of my thesis outline.
How did you proceed with your research?
First, Professor Suzuki instructed me to give presentations at academic conferences. When the time came to share my thesis in its current form, the professors were very generous with their advice on how to go about writing it. The day before a presentation, I would rehearse in front of them at the inn where we were staying. This gave me confidence, and I also learned a great deal from those sessions. On the day of the presentation, even though I was very nervous, I would have a clearer image of the points I needed to clarify regarding my research, thanks to the many questions they had asked beforehand. In this way, I was able to successfully develop my thesis in the course of making several presentations at academic conferences. I never met with my advisors in person other than at academic conferences. But, the exchanges on the message board , over e-mail, and on telephone calls made up for that.
What have you learned during your studies here?
Above all, I learned ID theory. Now, I have a better understanding of how to narrow the gap between the status quo and the goal. Also, by learning the importance of setting achievable goals, my professional and learning styles have both changed a lot. Now, I start by setting my ultimate goal, and then I make a detailed plan. Within just three months after entering this school, we were able to learn the basics of ID theory through compulsory courses such as Introduction to E-learning and Instructional Design I. That's why I decided to use the ID theory I learned at GSIS to make my learning process more effective. One may get the impression that there are just too many tasks in this program, but I think that if you have a strong drive to learn and are smart about utilizing ID yourself, you can have it down pat in two years (laughs)!
How will you make use of what you have learned at this school?
I believe I can utilize ID theory in every aspect of my university job. In addition to utilizing it in the development of e-learning materials, , I want to apply it to all of my work projects, including FD (*4) and promote educational reform for the whole university.
Do you have a message for someone who is considering entering this school?
Before I entered GSIS, I was quite concerned that I wouldn't be able to keep up or truly benefit from studying here. Now, however, I can confidently say that I have no regrets. Enrolling here was definitely worth it. For one thing, it has already helped me make advances in my career. Also, I was extremely lucky to have found a mentor in Professor Suzuki. I have never heard any negative comments or regrets from my classmates or upperclassmen about their experience studying here either. Of course, sometimes I found the program very demanding, but this was because I was taught by faculty members with high standards who were dedicated to taking us to the next stage. In addition, the educational program at this graduate school has been designed with special consideration for its adult students who should be able to handle the challenges. I feel very proud about my time at the Graduate School of Social and Cultural Science Instructional Systems. Let's learn here together!
(Interviewed in February 2009)
| | |
| --- | --- |
| ※1 | VOD (Video on Demand): A system which enables users to watch video clips whenever they like. |
| ※2 | The ADDIE model: A development process model for educational materials and systems. This model is proposed in the field of instructional design. "ADDIE" is an acronym for Analysis, Design, Development, Implementation, and Evaluation. |
| ※3 | Blackboard: One of our key LMS (Learning Management Systems). All Kumamoto University students use it to access various learning materials, manage their class schedules, and access their academic records, all through a standard Internet browser. |
| ※4 | FD (Faculty Development): An initiative to improve the quality of faculty at organizations. |