Junko Morita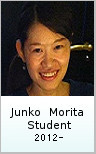 Junko Morita
Enrolled 2012 Academic Year
Taras Shevchenko National University of Kiev, Ukraine
Visiting Lecturer
Please tell us about your current work.
I am a Japanese language instructor. I was teaching Japanese at a University in St Petersburg, Russia for one year at the same time as I was studying at GSIS.
What led you to enroll at GSIS?
I entered GSIS for several reasons. I teach Japanese to non-native speakers. While working on improving my lessons and developing teaching materials, I would time and again come across the keyword "instructional design (ID)". I think there are a lot of Japanese instructors who are familiar with ID, such as Ms. Akiko Kai; she's a fellow Japanese language instructor who was studying at GSIS since before I enrolled. There is even a book (*1) geared toward Japanese instructors which uses Professor Suzuki's writing (*2) as its basis. Because of these circumstances, I took a considerable interest in Professor Suzuki's works and GSIS. By coincidence, at this time I had also just moved to Kumamoto City, so I started focusing my efforts on entering Kumamoto University. My final reason for enrolling was that I had I worked at the Kyushu University International Student Center in Fukuoka before moving to Kumamoto. I had seen the great progress being made in using IT there, such as their use of LMS (learning management systems) and online testing systems. I found this technology very useful for teaching, and felt the need to learn more about IT, because more and more people were coming to support teaching methods that used it. I felt that I should study e-learning in order to be able to discern between good uses of it with bad ones. Looking back, I think that my interest in ID and IT led me to enter GSIS. I wanted to learn ID to improve my lessons and improve my IT skills, and I was in Kumamoto. These three factors opened up a whole new world for me.
How do you like GSIS so far?
I was most excited about taking "Instructional Design 1", but all of my other courses were also very interesting. Finishing all of the tasks before each deadline was very hard, but I enjoyed learning with my classmates. Sometimes, the collaborative learning environment sometimes made me feel like I was holding them back, but I think that overall, we really helped each other get through. Most GSIS students are adult professionals from a variety of fields who put forth their best effort in all of their classes and training courses. Getting to meet them has benefitted me greatly.
How did you go about studying?
I lived in Kumamoto City during the first semester of my first year. I would typically access the GSIS portal from home, and go to the Kumamoto University campus a few times a week. I was lucky to have the opportunity to meet my professors there, even though I was in a distance learning course. I mostly lived in Russia during the next year. My classmates kindly arranged their schedules around mine when we needed to have Skype meetings for the "Practicum in e-learning". Talking with them on Skype motivated me while I was in Russia. I really owe it to the e-learning structure of the program because I didn't have to defer my studies even though I was working abroad. The internet reception was occasionally unstable in Russia, but I could usually find a place with Wi-Fi. Like in Japan, most Russian cafes offer free Wi-Fi to customers. I accessed the documents on GSIS portal at cafes when I had time during breaks at work, and concentrated on completing my tasks while at home. I moved back to Fukuoka after returning from Russia, so I couldn't go to Kumamoto University as often as during my first semester. When I needed face-to-face guidance in writing my master's thesis. I would sometimes ask my supervisor, Professor Goda, to call me for a Skype meeting, and sometimes I would visit her in Kumamoto. I met her every other week from October to November as I made progress on my thesis. Professor Goda kindly devoted a lot of time to meeting with me, and she had this way of always e-mailing me to check in just when my research wasn't progressing well (laughs). I learned a lot of things at GSIS, and I know my experience there will be invaluable in my teaching career going forward.
Which course was the most useful?
I had high expectations for "Instructional Design 1" even before I enrolled, and it's proven to be as useful as I had expected. It was very hard to keep up with my classmates, and I really appreciated all the time they devoted to evaluating the teaching materials I designed. This experience benefitted me while taking other courses. I even ended up rereading the textbook (*1) and recalling the process for developing teaching materials during "Special Research 2". I will make good use of ID in my teaching career in the future. "Pedagogical Fundamentals" was also a valuable course for me. It offered me a good opportunity to rethink my approach to education and learning. Also, I learned evaluation methods such as rubrics and portfolios. Lately, these methods are being used more and more in the field of Japanese language education. I learned a great deal from this course. I should add that IT courses were also very useful. I appreciate having the opportunity to learn from the basics to practical methods. When I first used the LMS Moodle in "Information and Communication Technology Learning Support Systems", I found it very difficult, but Professor Kita told me, "IT is not so hard once you get used to it". So, I worked on getting used to Moodle step by step. Eventually I was developing e-learning materials using Moodle in "Special Research 2", and even used it for my final project. I'm talking about ID and IT so much, but Instructional Management (IM) and Intellectual Property (IP) were useful subjects, too. I think I can use the knowledge that I gained from the IP course when I develop teaching materials domestically and internationally. Meanwhile, my knowledge of IM will come in handy when I work to support human resource development such as by training other teachers or developing educational materials. Given this experience, I think I can say that all of the "Four Is" (ID,IT,IM and IP) will be assets moving forward in my teaching work.
How did you like SCC (Story-Centered Curriculum)?
I had heard about SCC through the GSIS website's "Messages from Our Students", but I had not been very interested in SCC before entering GSIS. However, I found myself more interested after I took SCC courses in the first semester. SCC provided a useful method for managing my learning schedule. Also, the stories helped me figure out the instructions for tasks that were quite different from my actual job. I had heard a variety of pros and cons regarding SCC. and I was one of students who made proposals for improvements regarding its implementation on the course questionnaire. But designing a course is way different from taking one. The way I thought about SCC changed after I finished all of the SCC courses. Now, I have an interest in designing SCC courses myself.
What did you find difficult?
This is the flip side to my answer for the earlier question, "Which course was the most useful?" As I was technically weak in IT, "Information Processing Fundamentals" was especially hard for me. Luckily, I lived in Kumamoto at the time, so I was able to go get advice from more experienced colleagues at Kumamoto University. I didn't take any elective IT courses, but I increased my knowledge and skills for developing teaching materials using IT through compulsory courses such as "Information Processing Fundamentals" and "Information and Communication Technology Learning Support Systems".
Do you mainly communicate with the other students using the message boards?
I communicate with the other students informally on Facebook. We created a Facebook group when we started our first semester. Soon we were exchanging information about our tasks, theses and so on. I heard that students who lived in Tokyo would hold study sessions and go out to dinner together occasionally as well.
What have you learned during your studies here?
It's been an invaluable learning experience to learn about ID and IT as subjects which I have been interested in for some time. Not only that, but obtaining a master's degree will expand my career options. For example, I have accepted a new job in Ukraine that starts after I graduate which called for a master's degree. In addition, I see more and more public recruitment in the field of Japanese-language education in which applicants are required to be IT literate. I think that there will be a growing need for Japanese language instructors with knowledge of e-learning.
Do you have a message for someone who is considering entering this school?
While I've had challenges, I've been very happy learning here. I hope that you will join this program and have great time with your classmates and professors, both meeting them face-to-face and participating in online learning. Let's study hard and have fun learning together!
(Interviewed in February 2014)
*1 The book referred to is "Goal-Based Scenarios", an instructional design theory for designing story-type materials and a basis for SCC.
*2 : Professor Suzuki's writing refers to Story-Centered Curriculum. In SCC, students work on their assignments in the context of given stories. At GSIS, students can elect to take SCC courses in their first year of their master's program.